Stunning Fashion Craft Folk Art for Decor and Souvenirs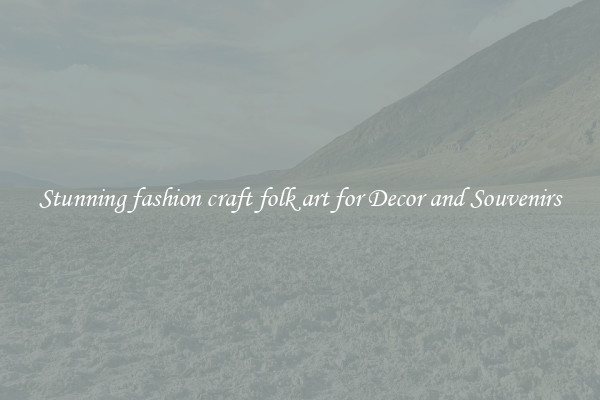 Fashion and crafts have always been intertwined, with artisans around the world bringing their unique cultural perspectives to their creations. These stunning fashion craft folk arts not only make for beautiful decor pieces but also serve as memorable souvenirs that can transport you back to a specific time and place.
One of the most visually striking fashion crafts is the intricate embroidery found in many traditional outfits. From the vibrant threads used in Mexican Otomí embroidery to the delicate Thai Pha Yok handwoven silk, these pieces showcase the remarkable skill and artistry of the artisans who create them. Embroidered fabrics can be framed and hung on walls, transforming any space into a work of art.
Another fascinating fashion craft is the art of pottery. Each region has its own distinct style, with techniques passed down through generations. The vibrant blue and white ceramics from the town of Iznik in Turkey, for example, feature intricate floral designs that are instantly recognizable. Pottery pieces can be used as decorative vases, serving dishes, or even as statement pieces on their own, adding a touch of elegance to any home.
For those seeking a more tactile experience, traditional weaving techniques offer a world of possibilities. From the intricate patterns of Andean textiles to the bold colors of African kente cloth, woven fabrics are not only visually stunning but also incredibly versatile. These textiles can be used as wall hangings, pillow covers, or even as fashion accessories like scarves or shawls, allowing you to wear a piece of cultural heritage.
One particularly charming fashion craft is the art of hand-painted wooden dolls. Matryoshka dolls, known as Russian nesting dolls, are a prime example of this craft. These whimsical dolls, painted with intricate designs, stack neatly inside each other, making them a must-have for collectors and a delightful addition to home decor. Hand-painted wooden dolls can also depict characters from different cultures, such as Japanese kokeshi dolls or Mexican alebrijes, showcasing the diversity and creativity of folk art traditions.
These stunning fashion crafts not only enhance the decor of any space but also make for meaningful souvenirs. By bringing a piece of fashion craft folk art into your home, you are not only supporting talented artisans but also celebrating the rich cultural heritage behind each piece. Whether displayed on a shelf, hung on a wall, or worn as a fashion statement, these crafts serve as reminders of our interconnected world and the beauty that can arise from cross-cultural exchange.
In conclusion, stunning fashion craft folk arts offer a unique way to decorate your space and commemorate your travels. From the intricate embroidery to the vibrant pottery, each piece tells a story and brings a touch of cultural heritage into your home. By embracing these beautiful crafts, you not only surround yourself with beauty but also contribute to the preservation of traditional art forms and the livelihoods of skilled artisans around the world. So why not incorporate a piece of fashion craft folk art into your decor or bring home a meaningful souvenir on your next journey?