Custom ceramic cupcake stands are the latest trend in the world of baking, allowing you to create stunning and unique displays for your sweet treats. Whether you are a professional baker or simply enjoy baking as a hobby, these stands are the perfect accessory to showcase your creations and make a statement at any event or gathering.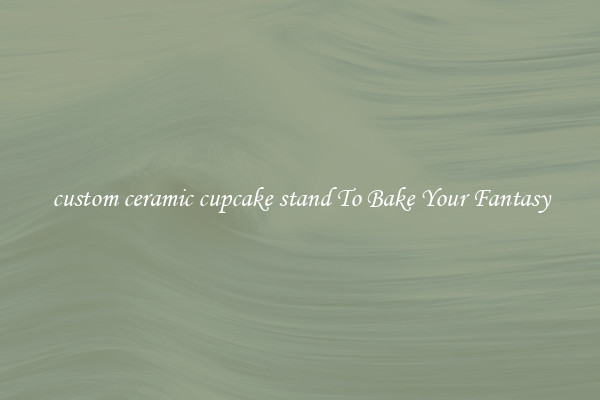 One of the main advantages of custom ceramic cupcake stands is their versatility. They come in various shapes, sizes, and designs, allowing you to find the perfect fit for your personal style or theme. You can choose from traditional round stands, tiered stands, or even stands in the shape of your favorite animals or objects. The options are endless, and you can let your imagination run wild in creating a stand that truly reflects your personality and creativity.
Not only are custom ceramic cupcake stands visually appealing, but they are also practical and functional. Made from high-quality ceramic materials, these stands are sturdy and durable, ensuring that your cupcakes are safely displayed without any risk of toppling over. The ceramic material also helps to insulate the cupcakes, keeping them fresh and moist for longer periods.
Another significant advantage of custom ceramic cupcake stands is their ability to be personalized. You can add your name, logo, or any design you desire to make it truly one-of-a-kind. These customized stands are ideal for bakers looking to brand their businesses, as they can serve as a marketing tool and a conversation starter at various events and exhibitions.
In addition to their aesthetic appeal, custom ceramic cupcake stands are also eco-friendly. As they are made from natural materials, they are an excellent alternative to plastic or metal stands that can harm the environment. By choosing a custom ceramic stand, you can contribute to reducing waste and promoting sustainability in the baking industry.
Whether you are celebrating a birthday party, a wedding, or simply hosting a gathering, displaying your cupcakes on a custom ceramic stand will undoubtedly impress your guests and leave a lasting impression. The stand will not only elevate the appearance of your cupcakes but also create a focal point, drawing everyone's attention to your delicious creations.
In conclusion, custom ceramic cupcake stands are a must-have for any baker who wants to add a touch of elegance, uniqueness, and creativity to their presentation. With their versatility, durability, and customizable options, these stands are the perfect accessory to bake your fantasy. So why settle for ordinary cupcake displays when you can create something extraordinary with a custom ceramic stand? Let your creativity soar and make a statement with your cupcakes today!