Microsurgical instruments play a crucial role in performing delicate surgeries with precision and accuracy. These sets consist of a variety of instruments specifically designed for microsurgeries, allowing surgeons to operate on small structures like blood vessels, nerves, and tissues.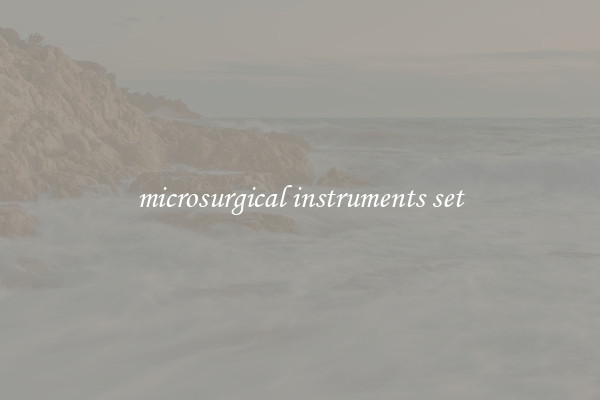 One of the most important instruments included in a microsurgical set is the microsurgical scissors. These scissors have thin and sharp tips, enabling surgeons to make precise and clean cuts without damaging surrounding tissues. They are commonly used in procedures such as nerve repair and vessel anastomosis.
Another essential instrument is the microforceps. These small forceps are designed to enable surgeons to handle delicate tissues and hold small structures like sutures with ease. They have a fine and delicate tip, allowing for precise grasping during intricate procedures.
Microsurgical needle holders are also an integral part of these sets. These needle holders are specifically designed to hold small and delicate needles during suturing. Their thin and long jaws provide a firm grip, ensuring accurate needle placement and secure sutures.
Apart from these instruments, microsurgical sets also include microsurgical hooks, retractors, and probes. Microsurgical hooks are used to manipulate and dissect tissues gently, while retractors help to hold tissues back and provide a clear view of the surgical field. Probes, on the other hand, enable surgeons to explore and evaluate small structures without causing any damage.
Microsurgical instruments sets are usually made from high-quality stainless steel, ensuring durability and longevity. They are also designed for ease of use and ergonomics, allowing surgeons to perform long and complex surgeries without fatigue.
Microsurgical procedures require a high level of skill, precision, and concentration. Therefore, having the right tools at hand is crucial for success. These sets provide surgeons with specialized instruments that are tailored to meet the unique requirements of microsurgeries.
In conclusion, microsurgical instrument sets are essential for performing intricate surgeries with precision and accuracy. These sets include a range of instruments designed specifically for microsurgeries, including scissors, forceps, needle holders, hooks, retractors, and probes. Made from high-quality stainless steel, these instruments ensure durability and longevity. With the right tools at hand, surgeons can confidently perform microsurgeries knowing they have the necessary precision and accuracy to achieve successful outcomes.